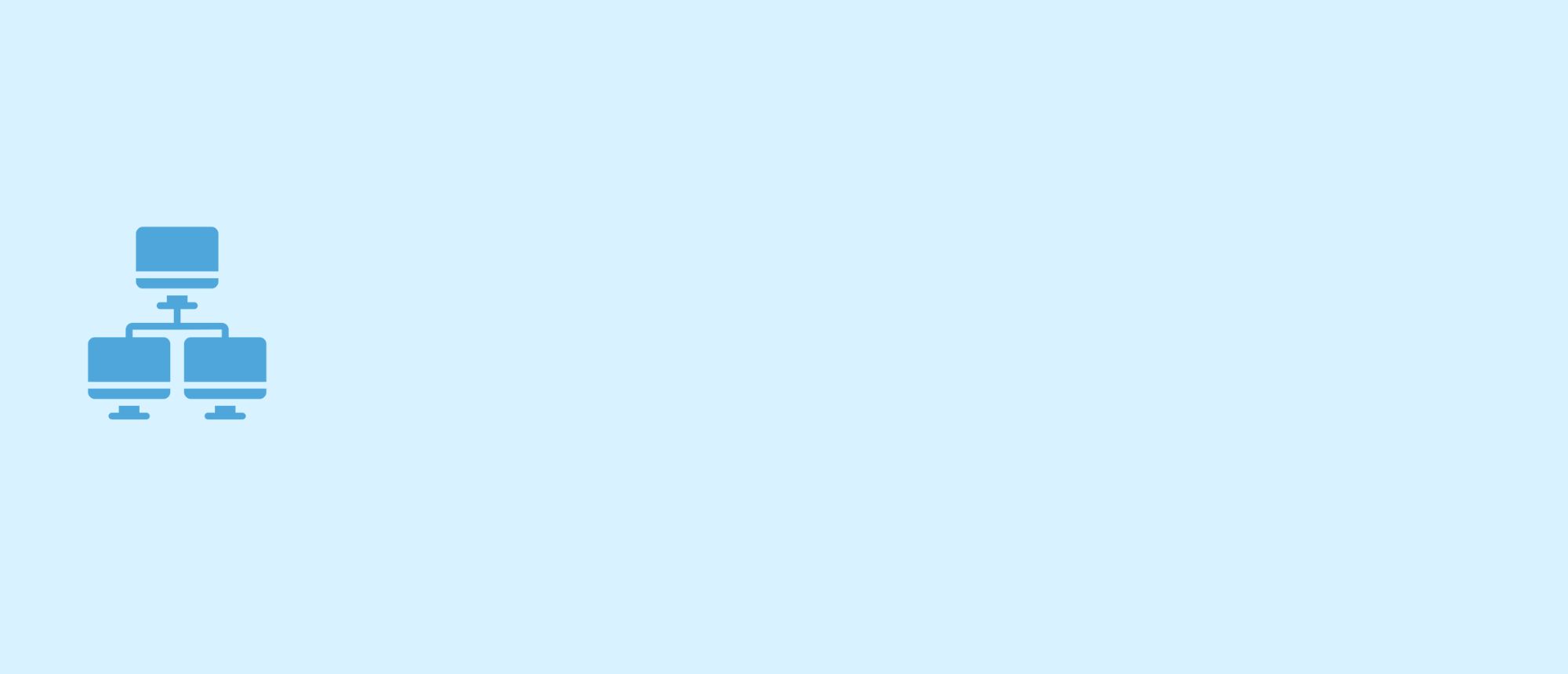 TCP/UDP/IP Network Protocol 
Accelerator Platform (NPAP)
IP Cores for Accelerating Network Protocols
The German Fraunhofer Heinrich-Hertz-Institute (HHI) has partnered with MLE to market the proven network accelrators "TCP/IP & UDP Network Protocol Accelerator Platform (NPAP)".  This customizable solution enables high-bandwidth, low-latency communication solutions for FPGA- and ASIC-based systems for 1G / 2.5G / 5G / 10G / 25G / 40G / 50G / 100G Ethernet links.
MLE is a licensee of Fraunhofer HHI, and offers a range of technology services, sublicenses and business models compatible with customer's ASIC or FPGA project settings, world-wide.
If you are interested in optimizing your Linux based system for best performance with NPAP, we do suggest to read this technical publication from Bruno Leitao, IBM: "Tuning 10Gb network cards on Linux".
Core Benefits
Accelerate CPUs by offloading TCP/UDP/IP processing into programmable logic ("Offloading")
Increase network throughput and reduce transport latency
Bring full TCP/UDP/IP connectivity to FPGAs even if no CPU available ("Full Acceleration")
Complete and customizable turn-key solutions and IP cores based on the TCP/UDP/IP stack from the Fraunhofer HHI
All MAC / Ethernet / IPv4 / UDP / TCP processing is implemented in HDL code, synthesizable to modern FPGAs and ASIC
User applications can either be implemented in FPGA logic or in software via application-specific interfaces to CPUs
Key Features
Highly modular TCP/UDP/IP stack implementation in synthesizable HDL
Full line rate of 70 Gbps or more in FPGA, 100 Gbps or more in ASIC
128-bit wide bi-directional data paths with streaming interfaces
Multiple, parallel TCP engines for scalable processing
Network Interface Card functionality with Bypass (optional)
DPDK Stream interface (optional)
Corundum NIC integration with performance DMA and PCIe (optional)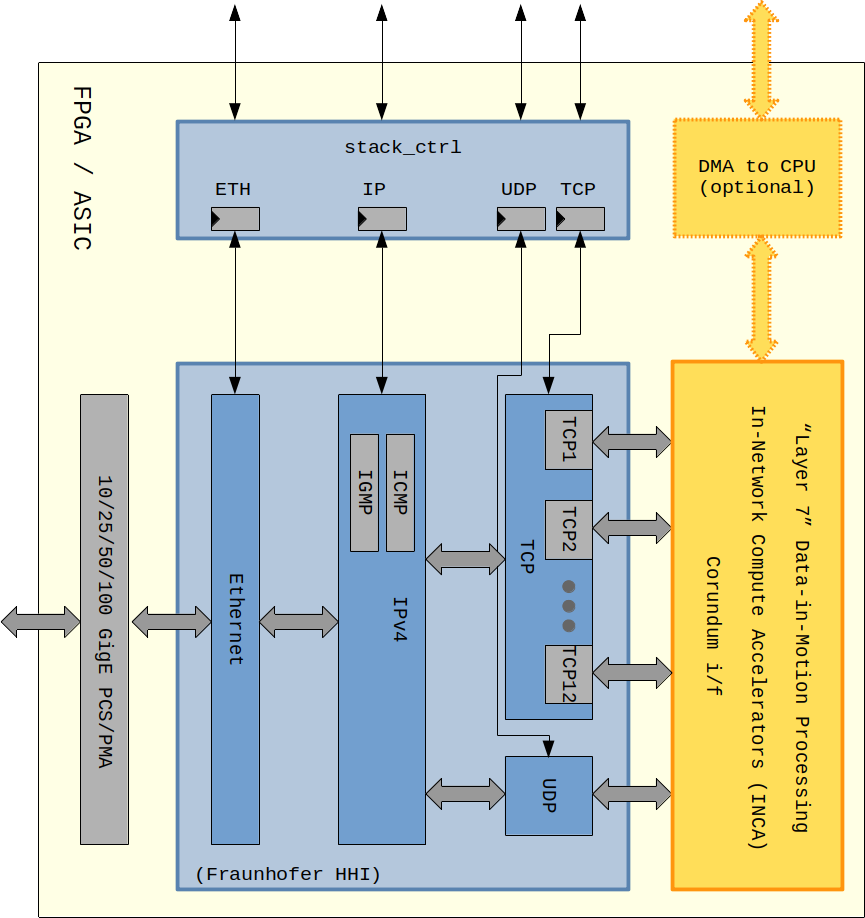 Applications
FPGA-based SmartNICs
In-Network Compute Acceleration (INCA)
Hardware-only implementation of TCP/IP in FPGA
PCIe Long Range Extension
Networked storage, such as iSCSI
Test & Measurement connectivity
Automotive backbone connectivity based on open standards
Video-over-IP for 3G / 6G / 12G transports
Increase throughput for 10G/25G/50G/100G Ethernet
Reduce latency in System-of-Systems communication
Remote Evaluation System for Network Protocol Accelerator Platform (NPAP)
Try out the Network Protocol Accelerator Platform (NPAP) using MLE's Remote Evaluation System which lets you connect to MLE's IP core evaluation lab via a remote connection so you can evaluate and try out this IP core from MLE and partners.
Evaluate and try the IP core when it is running live on an FPGA system under your control – which saves you from engineering time to integrate and compile the IP core on target hardware

Have your own copy of a virtual environment – which allows you to run your tests, keep your logs, for example, if your calendar forces you to interrupt your current evaluation

This remote evaluation is based on the NPAP-10G Evaluation Reference Design (ERD) for Xilinx Zynq UltraScale+ MPSoC running on the ZCU102 DevKit. The ZCU102 Devkit is physically connect via a 10GigE Twinax cable to a Mellanox ConnectX-4 LX 10G/25G NIC which sits inside the host running Your VM.
Below are the FPGA-based solutions currently supported by MLE's Remote Evaluation System for MLE's IP core evaluation:
Pricing
MLE's Network accelerators – Network Protocol Accelerator Platform (NPAP) – is available as a combination of Intellectual Property (IP) Cores, reference designs, and design integration services:
Product Name
Deliverables
Example Pricing

Network Processing Device

Integrated processing device solution, built on top of leading FPGA technology, encapsulating one or more Network Protocol Accelerators for 1GbE and/or 10GbE.

Based on NRE and unit volume 

Intellectual Property (IP) Cores

Single-Project or Multi-Project Use; ASIC or FPGA; Modular and application-specific IP cores, and example design projects; delivered as encrypted netlists or RTL.
starting at $78,000.-
(depends on FPGA device and line rate, please inquire)

Evaluation Reference Design (ERD)

Available upon request as FPGA design project, with optional customizations (different target device, different transceivers, etc)

free-of-charge

Application-specific R&D Services

Advanced network protocol acceleration R&D services with access to acceleration experts from Fraunhofer HHI and/or MLE.

$1,680.- per engineering day

 
Please contact MLE for additional details on Network Protocol Accelerator Platform (NPAP) products and services or other product and licensing options.
Datasheet
Brochure
Application Note
Technical Document
Datasheet
Brochure
Application Note
Technical Document
Frequently Asked Questions
Fraunhofer HHI

Founded in 1949, the German Fraunhofer-Gesellschaft undertakes applied research of direct utility to private and public enterprise and of wide benefit to society. With a workforce of over 23,000, the Fraunhofer-Gesellschaft is Europe's biggest organization for applied research, and currently operates a total of 67 institutes and research units. The organization's core task is to carry out research of practical utility in close cooperation with its customers from industry and the public sector.
Fraunhofer HHI was founded in 1928 as "Heinrich-Hertz-Institut für Schwingungsforschung" and joined in 2003 the Fraunhofer-Gesellschaft as the "Fraunhofer Institute for Telecommunications, Heinrich-Hertz-Institut". Today it is the leading research institute for networking and telecommunications technology, "Driving the Gigabit Society" .