 NVMe Streamer​
NVMe IP Cores for Storage Acceleration
NVMe (Non-Volatile Memory Express) has become the prominent choice for connecting Solid-State Drives (SSD) when storage read/write bandwidth is key. Electrically, the NVMe protocol operates on top of PCIe; it leaves behind legacy protocols such as AHCI, and thus scales well for performance. MLE has been integrating PCIe, and NVMe, into FPGA-based systems for a while. Now, MLE releases NVMe Streamer, an IP Core for NVMe Streaming, which is a so-called Full Accelerator NVMe host subsystem integrated into FPGAs, and most prominently into Xilinx Zynq Ultrascale+ MPSoC and RFSoC devices.
MLE's new NVMe Streamer is the result of many successful customer projects and responds to the embedded market's needs to make use of modern SSDs. NVMe Streamer is a fully integrated and pre-validated subsystem stack operating the NVMe protocol fully in Programmable Logic (PL) with no software running, keeping the Processing System (PS) out of this performance path. For Xilinx FPGAs,  NVMe Streamer utilizes Xilinx GTH and GTY Multi-Gigabit Transceivers together with Xilinx PCIe Hard IP Cores for physical PCIe connectivity.
Provides one or more NVMe / PCIe host ports for NVMe SSD connectivity
Full Acceleration means "CPU-less" operation
Fully integrated and tested NVMe Host Controller IP Core
PCIe Enumeration, NVMe Initialization & Identify, Queue Management
Control & Status interface for IO commands and drive administration
Approx. 50k LUTs and 170 BRAM tiles (for Xilinx UltraScale+)
Compatible with PCIe Gen 1 (2.5 GT/sec), Gen 2 (5 GT/sec), Gen 3 (8 GT/sec), Gen 4 (16 GT/sec) speeds
Scalable to PCIe x1, x2, x4, x8 lane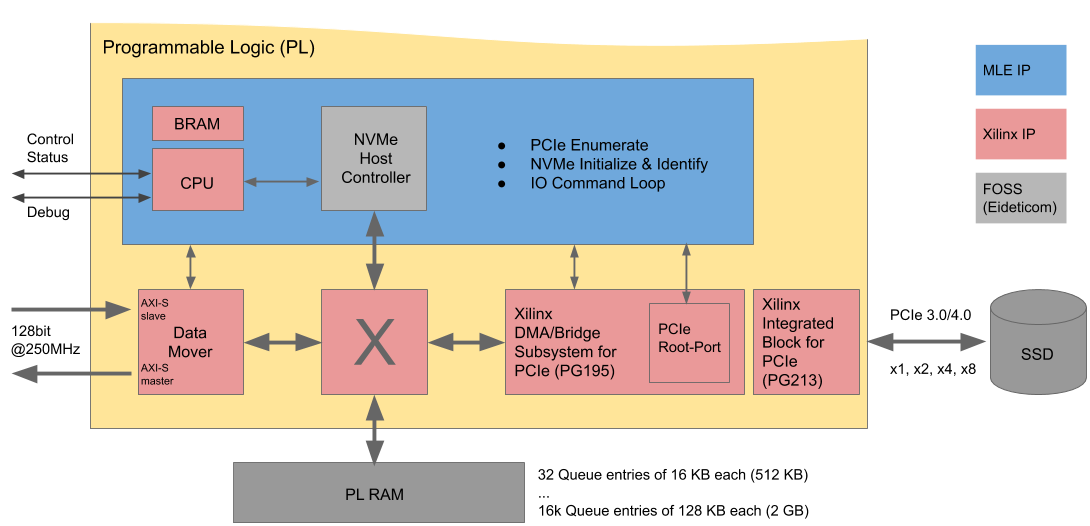 High-speed analog and digital data acquisition
Lossless and gapless recording of sensor data
Automotive / Aerospace Data Logging
Data streaming from SSDs
Storage protocol offloading
Evaluation System for NVMe Streamer (NVMe IP)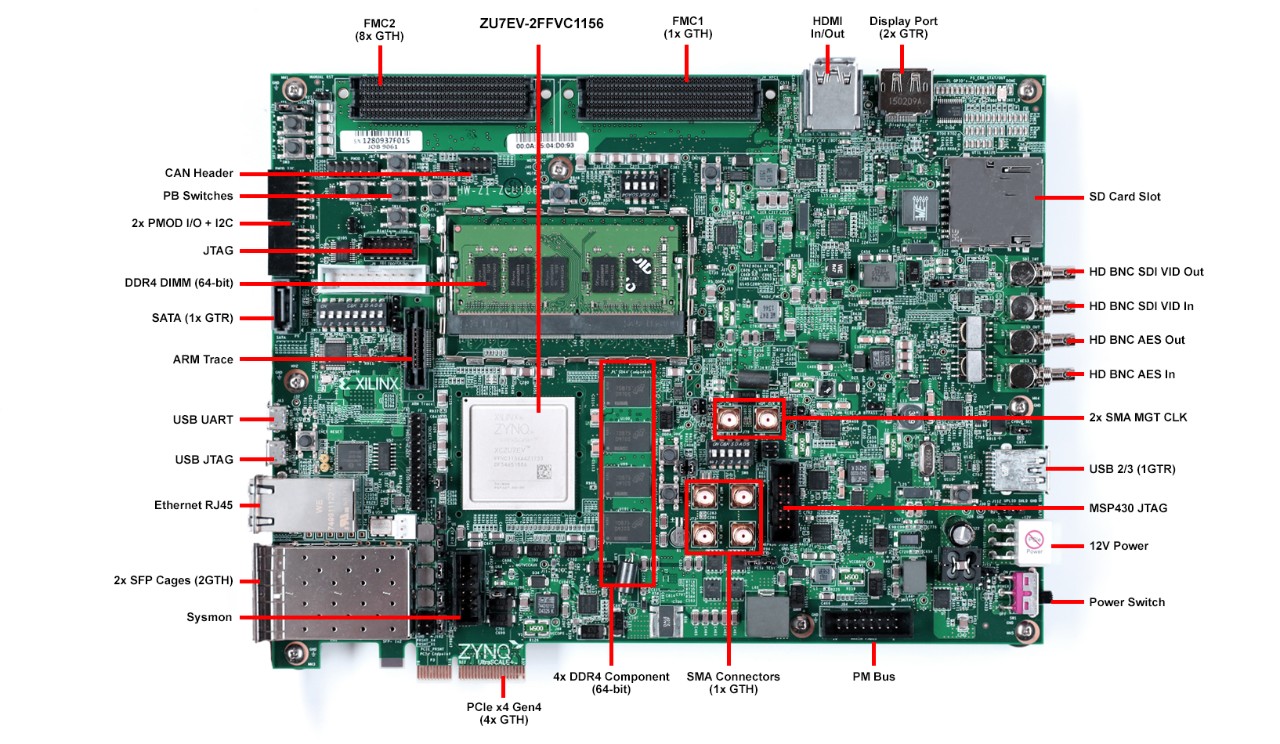 Zynq UltraScale+ MPSoC Evaluation System
In collaboration with FPGA ecosystem partner Opsero, MLE provides an evaluation system based on Opsero's FPGADrive.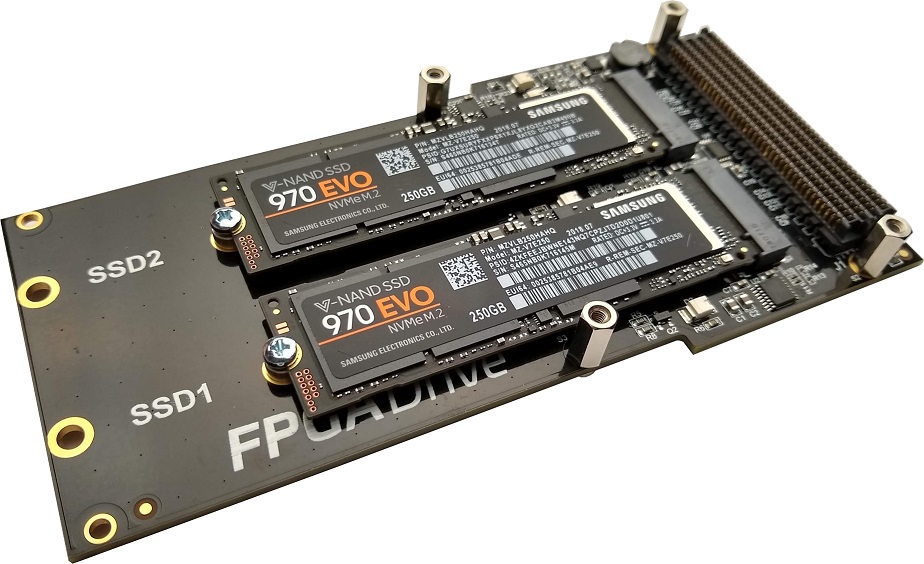 Pricing
MLE's license fee structure reflects the needs for simple and affordable NVMe IP Core for connectivity:
Product Name 
Deliverables
Example Pricing

Evaluation Reference Design 

(NVMe Streamer ERD)

Binary-only system stack compiled under Vivado Tried and tested to work on the Xilinx ZCU106 Development Kit. Evaluation-only license, valid for 30 days.

free of charge

Production Reference Design – Professional Edition

(NVMe Streamer PRD-PE)

Complete, downloadable NVMe Host and Full Accelerator subsystem integrated into the ERD example system. Delivered as Vivado design project with encrypted RTL code. Production-ready: Pre-integrated and tested to be portable to Your target system hardware. Fully paid-up for, royalty-free, world-wide, Single-Project-Use License, synthesizable for 1 year. Up to 40 hours of premium support, customization and/or integration design services via email, phone or online collaboration.

 starting at $24,800.-

Application / Project specific Expert Design Services

System-level design, modeling, implementation and test for realizing Domain-Specific NVMe Streaming / Recording Architeture.

$1,480.- per engineering day 
Brochure
Application Note
Related Document
Brochure
Application Note
Related Document
Frequently Asked Questions​